Wild Honey
Torres Blancas
An album for a majestic trip wandering between the sunnny west coast and a grown up life in the city of Madrid.
Listen to Torres Blancas
Art Direction
Graphic Design
Illustration
Wild Honey is the brainchild of Guillermo Farré, Spanish musician and songwriter from Madrid, where he wrote his third solo album. Torres Blancas (White Towers) is not only the title of his new record, but also an iconic residential building in the north of the Spanish capital.

After fifteen years walking by nonchalantly, its figure now serves as a metaphor of his relationship with the city. Part of a process of coming to terms with previous uncertainty over lifestyle choices that to some extent, have been answered.








After two albums, three ep's, numerous designs and many years of friendship with Guillermo, Torres Blancas is somehow a different album for both of us. Yes, it contains another bunch of songs meticously layered at home, but this time there is a bigger sense of exposure. And maybe a relief.

Torres Blancas to me is the capture of a tense calm, a tropical melancholy. The isolation of a dark background also makes it lush but absent, somehow like the glasshouse of a botanic garden. There is an abundance of familiar elements, mostly companions of our daily routines; plants, staircases, drawings and diagrams, tables and office chairs... but most of them with a sense of self reactivation.

Plants are in and out of scale, boring staircases leading to nowhere but to observe the scene from above. Self rotating printed tigers and ping pong paraboles. Stones entering eruption state or its steadiness being recorded. An office meeting under an oscillating pendule... all part of a scene where something just happened or it is about to occur.

The only human presence is that of a hidden ghost in whose left hand is resting a tropical bird blinded by a falconry cap. The haunted vision that a better place will always be, wherever you are not at.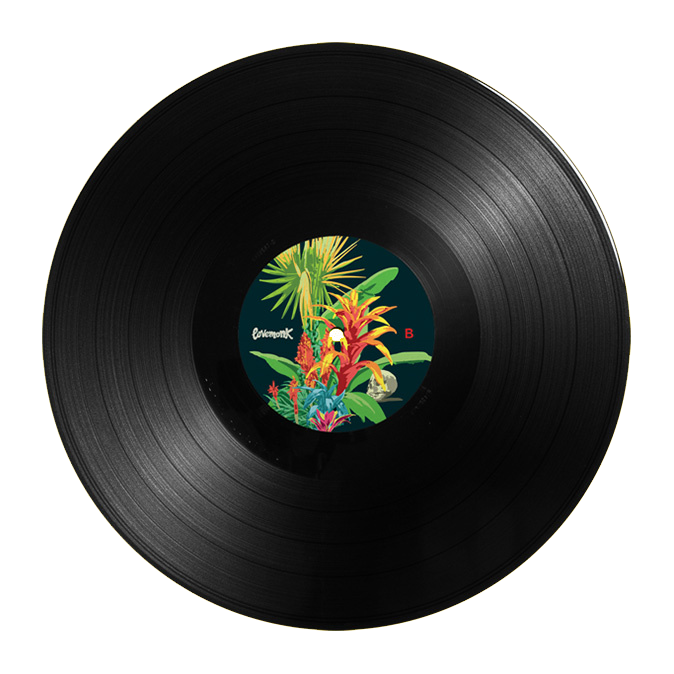 Palmehuset, Copenhagen


"Imagine the Beach Boys hosting a party with The Carpenters and Stereolab (think Dots and Loops) on the guest list. It's stiflingly hot and it's all taking place at David Hockney's 'Hollywood Swimming Pool"
Picture Of A Hollywood Swimming Pool
1964, David Hockney
Lustgården
1950, Stig Lindberg
Edificio Torres Blancas
1968, Sáenz de Oiza